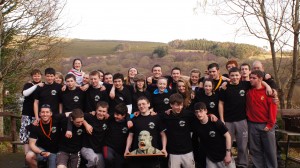 Survival Challenge is back!
The Lough Dan Survival Challenge is back! And takes place between the 1st and 3rd of January in Lough Dan and the surrounding Wicklow Wilderness!
What is Lough Dan Survival Challenge weekend?
It's a weekend of challenge and adventure for all scouts between 14 – 16 years of age.
It is a challenge that will test your scouting skills, your mental and physical stamina to their limits. You will be put through a series of gruelling tasks and challenges designed to push you above and beyond your expectations of what you thought scouting had to offer.
You will be hurled deep into the Wicklow countryside, required to extract information from locals. Forced to navigate and survive the harshest conditions that the Wicklow Mountains can throw at you, all while trying to complete and objective, outwit the other teams and beat the clock! Are you up for it?
Patrols of strictly four will compete against each other for the coveted Lough Dan Survival Challenge Award.
You will have to use your wit and cunning to outsmart and out think the other teams but you must also rely on them for help in times of need.
Each member of your team MUST have adequate knowledge of the following skills…
• Night Navigation  • Shelter Building  • Basic First Aid
• Pacing  • Compass work  •Backwoods cooking
FULLY BOOKED - SEE YOU IN 2016!
Any questions contact [email protected] We hope to see you there!